The First Trimester of Pregnancy
The first thing you want to do is find a doctor. In order to do this, you may want to consider if you want to have a natural or medicated birth.
However, don't feel too much pressure to make a final decision at this point. You can always switch doctors, which is what I ended up doing halfway through my pregnancy.
I recommend trying to make an appointment as soon as you find out that you are pregnant. The practice you find could be a busy one, and you don't want their calendar to fill up so that you can't get an appointment until later.
Typically you will have your first appointment around 8 weeks after your last menstrual period (LMP).
They will likely tell you this unprompted, but you should come prepared to ask questions, such as what foods and activities to avoid.
Disclosure: This post contains affiliate links. This means that I earn a small commission if you make a purchase by clicking on the affiliate links at no extra cost to you. Please see my Disclosure for more details.
Prenatal Vitamins
✅ You should probably start taking prenatal vitamins as soon as you find out you are pregnant. The early weeks are very important to your baby's development.
✅ If you have really bad nausea, gummy prenatal vitamins tend to go down a little easier due to their consistency.
Pregnancy App
Pregnancy apps are so much fun! I downloaded multiple apps and checked them every single day. I loved reading about where my baby was developmentally and seeing how big my baby was.
I liked the BabyCenter app and What to Expect app the best, but there are a ton of free options out there to choose from.
Pregnancy Announcement
This is also something you may want to start thinking about. Everyone does this differently at different times. There is no right or wrong answer, it's just a matter of what is right for you.
Some moms like to wait until they are past week 12 because the chances of a miscarriage go down exponentially. According to the March of Dimes, the chances of a miscarriage after the 12th week is between 1-5%.
I chose to tell my family as soon as I found out I was pregnant. I wasn't thinking about a miscarriage at all, but I knew if it happened that I would tell them. So for me, there was no point in waiting.
My whole immediate family got together for Christmas dinner, and I announced it right before we ate. Everyone was so surprised and happy, and it was really fun! I'm probably one of the few people who didn't do a facebook announcement.
However, here are some fun and creative pregnancy announcement ideas if you're looking for some inspiration!
Pregnancy Symptoms
Before I got pregnant, the only symptoms I knew of were morning sickness and swollen feet. So it was quite a surprise to find out through my own experience that there are LOTS of fun symptoms that you can experience while pregnant.
In fact, pregnancy for some women can feel like those drug commercials you see on TV. "Side effects may include…" and then they list off 100 symptoms.
In my first trimester of pregnancy, I got unreasonably angry at whoever coined the phrase "morning sickness". I felt like I had been promised something, and then I got the worst surprise of my life.
Morning sickness doesn't happen for everyone. For some people, it is ALL DAY sickness. As in… it never ends, you just stay sick forever! And that's not all. In some cases, it lasts WELL into the second trimester!
I. COULDN'T. DRINK. WATER. Really Mother Nature? Why couldn't you have picked something like soda? Actually why couldn't you have just let me drink SOMETHING? I couldn't drink anything at all, it made me way too sick.
Imagine you are literally dying of thirst. Like the thirstiest you have EVER been. You want water more than you want a slice of pizza or a piece of chocolate. Now that's a day I never thought I'd see.
EXCEPT that water makes you extremely sick. It literally makes you so sick, you would rather suffer and die of thirst than drink it. I actually googled this and found out that I was not alone.
I also could barely eat, and I LOVE to eat. I could eat saltines, grapes, peanut butter toast, and lemon ice. That's IT. No wonder I lost weight in the first trimester.
I also experienced some pretty gnarly mood swings and extreme exhaustion. I had never spent so much time on the couch as I did in the first trimester. In fact, I feel like I barely moved.
Other symptoms that some women can experience include constipation, frequent urination, tender breasts, heartburn, and headaches.
Don't worry, though. It is amazing how differently everyone experiences pregnancy. I may have had MANY unpleasant symptoms, but you may not experience many of them. For example, I have a friend who never felt sick or queasy her entire pregnancy!
The Second Trimester of Pregnancy
It is common for this to be the trimester where you are feeling your best. You have more energy, and typically aren't sick anymore. The sickness doesn't always fade for all women early in the second trimester, though.
This is when I finally started working out again. Talk to your doctor first, but if it's possible for you, I highly recommend being active! Exercise is good for you and your baby. There are so many options from prenatal yoga to water aerobics classes.
Working out while pregnant helps to give you more energy, and you just FEEL better.
You may have an ultrasound when you are around 20 weeks. It is so much fun to see your baby moving around! My baby looked like she was throwing a dance party in there. It was actually very strange to see just how much she was moving, but not be able to feel it at all.
The other fun part about this ultrasound is that you can find out the sex of your baby, if you haven't already.
Maternity Clothes
This is something you will probably start to think about early in your second trimester. There are plenty of retailers like Target and Nordstrom that offer maternity clothes.
You should also invest in a few good nursing bras. If you plan to nurse, underwire bras can be extremely uncomfortable and can also cause clogged ducts. Plus nursing bras makes nursing so much easier.
✅ My favorite nursing bra was so incredibly comfortable, while also providing great support. It was so easy to quickly snap and unsnap when my baby wanted to nurse. This is the only nursing bra that I still wear today, even though I'm no longer nursing.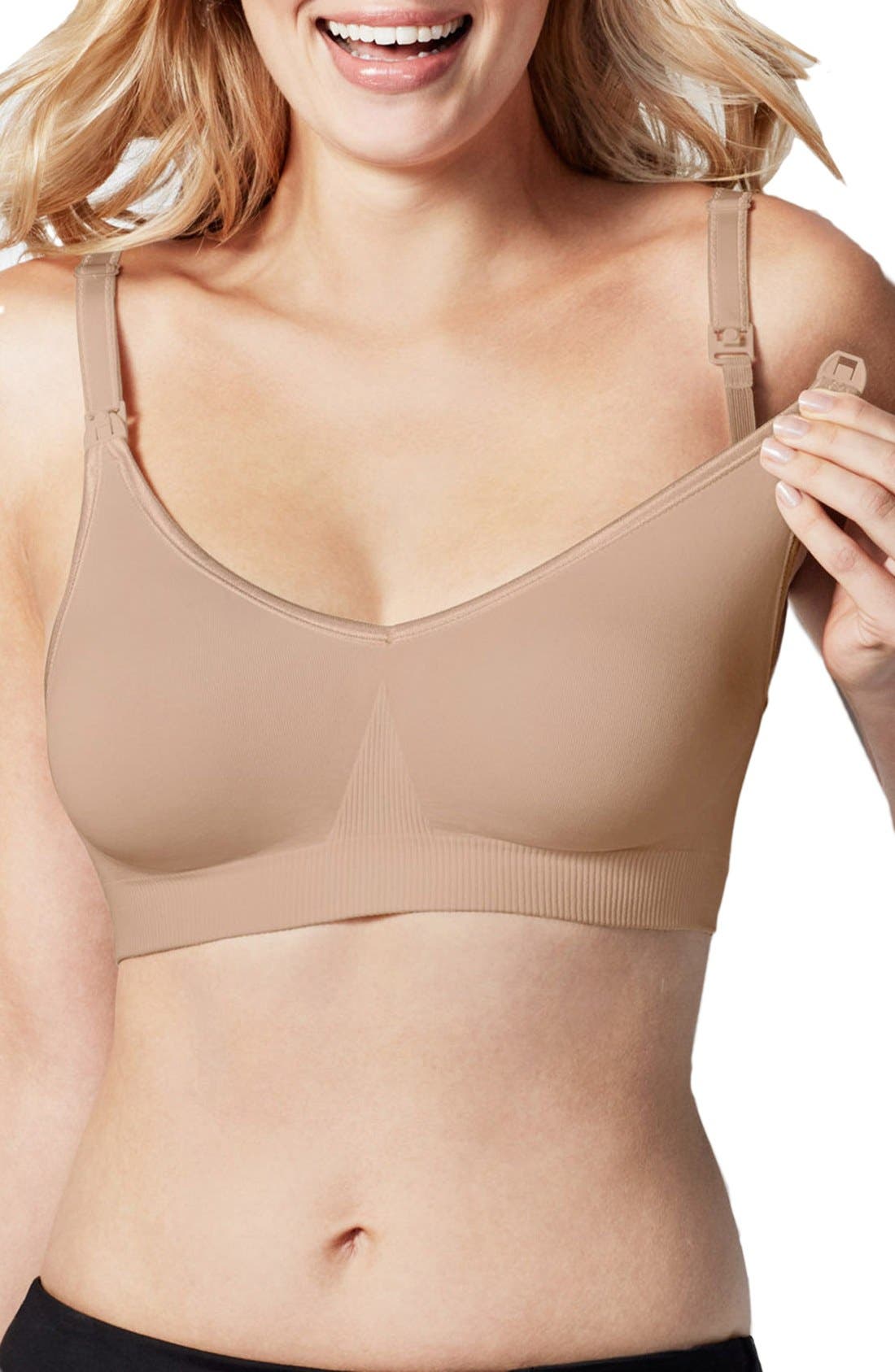 Gender Reveal
This is obviously optional, but can be a fun thing to do!
You can have a gender reveal party with your family and friends, or you can do a small and intimate gender reveal with a small group of family members.
I am not the most patient person. As soon as I found out the sex, I went to the store to buy ingredients to make a layer cake. The frosting on the inside was pink, and I used chocolate frosting for the outside of the cake.
We gathered with my parents and siblings, and everyone guessed what they thought the gender was. Then we cut into the cake! It was a lot of fun.
If you're having trouble figuring out what you want to do, here are some creative gender reveal ideas for you!
Baby Registry
The second trimester is probably when you will begin planning and potentially even have your baby shower. This can be overwhelming for first time moms!
First you want to pick your baby registry. Personally, I used babylist, but I now regret doing that. I chose babylist because you could register from any website.
However, if I'd done some research, I would have found that there are other baby registries that allow you to register from any website AND also give you a free welcome basket. Womp, womp.
Amazon and Target are great places to register. They both allow you to register from any website, they give you discounts on items on your registry that weren't purchased, and they give you welcome boxes.
Amazon Baby Registry
Here is what you get with an Amazon baby registry:
Free welcome box valued up to $35.
You can add any item from other websites.
You get a 10% discount on items not purchased. If you're a prime member, you'll get 15% off items not purchased.
For most items on your registry, you'll get 365 days to return them.
You have group gifting so multiple people can contribute towards bigger gifts.
Target Baby Registry
Here is what you get with a Target Baby Registry:
Free welcome kit with $80 worth of coupons and handpicked samples
8 weeks before your due date, you'll receive a coupon for 15% off everything left in your registry, plus anything else you'd like to add.
A smart checklist that crosses off items as you build your registry.
You can add items from other websites.
You can see who bought which item.
You can return items for up to a year after they were purchased.
You have group gifting so multiple people can contribute towards bigger gifts.
You can personalize your page by adding photos, setting a custom URL, etc.
A registry app so you can scan barcodes and easily manage your registry.
Maternity Leave
You are going to want to talk to your boss about maternity leave so you can start planning. If you work for a company in the United States with more than 50 employees, you have a legal right to 12 weeks of unpaid leave when you give birth or adopt a child.
Pregnancy Symptoms
There are SO many symptoms that you can experience. Personally, I experienced constant stuffy nose, daily nosebleeds, dry eyes (which made it challenging to wear contacts), charley horse, and restless legs.
I had NO idea any of these things were things.
I was constantly blowing my nose every day, and then I would get a nosebleed. Apparently the increased blood volume and effect of pregnancy hormones on mucus membranes can cause regular nosebleeds.
Dry eyes are also caused by hormonal changes.
I have no idea what causes a charley horse, but I can tell you that they are EXTREMELY painful. I woke up screaming in pain multiple times because of it.
If you get a charley horse, get up and start walking IMMEDIATELY! It sounds strange, but it really works. The charley horse goes away almost instantly once you start walking around.
This is also when my pregnancy line first appeared.
The Third Trimester Of Pregnancy
Hardcore Nesting Phase
My advice? Marie Kondo the CRAP out of your house. This is what I did, and it did wonders for my mental health. Getting rid of crap I didn't really need or use felt like a weight was lifted off of my shoulders.
Plus the less stuff you have in your house, the easier it is to clean. I don't know about you, but I'm the kind of person that finds the idea of cleaning a room with lots of crap to be overwhelming.
Speaking of cleaning, if you are able to, you should make sure your house is the cleanest it has ever been. You are NOT going to want to clean postpartum. In fact, physically you may not even be able to.
When I came home from the hospital, I was SO grateful for a spotless house. My husband and I were so exhausted that there wasn't really a lot of cleaning happening. It's scary to think how gross the house may have gotten if we hadn't cleaned it beforehand.
I also recommend you completely prepare the nursery. Wash all of your newborn clothes, 3-month-old clothes, sheets, and anything else you have for baby that can be washed. You want to delay having to do laundry postpartum for as long as possible.
Pregnancy Symptoms
You may start to experience shortness of breath, or you may have started to experience this in the second trimester.
You can experience swelling in your ankles, legs, feet, fingers, and face.
Some women experience heartburn, constipation, and/or diarrhea.
It is common to experience Braxton Hicks contractions, which are essentially contractions that are helping your uterus to "warm up" for the big day. Sometimes women will start having Braxton Hicks contractions in the second trimester.
As you get bigger, you may start to feel pretty uncomfortable. This is one of many factors that can affect your sleep.
You also may experience insomnia. I slept horribly during the third trimester. I was constantly waking up to go to the bathroom, probably about 8-10 times a night.
My energy was so low. I would go for regular walks, but I walked slower than any human on the face of the planet has ever walked. I walked so slowly, it almost felt like I was walking backwards.
You may feel your baby drop as well. Not the exact moment, but I felt when my baby dropped. When I would walk, it felt like I had a bowling ball between my legs. Plus I also got lightning crotch multiples times.
When your baby drops, your baby's head moves lower down into the pelvis in preparation for labor. Don't worry, though! My baby dropped 3-4 weeks before I actually went into labor.
Monthly Milestones
✅ I highly recommend buying either a monthly milestones blanket or monthly milestones stickers.
Your baby changes SO much during the first year, and it is so much fun to look back at every month and really see the changes.
I definitely recommend doing this before baby arrives. You will be pretty tired postpartum, and may not remember to purchase one or the other before the first month.
Preparing For The Arrival Of Baby
You should try to get your car seat properly installed and your hospital bag packed over a month before your due date just to be safe. I know quite a few people that have gone into labor at least a month early, including moms who were having their first babies.
Stock up on two months worth of necessities! This includes things like soap, toothpaste, and toilet paper. Postpartum can be a very challenging time for moms, and the less you have to think about, the better.
Speaking of which, you should also freeze meals and/or buy frozen meals. Even if people are planning to bring you food. Trust me, you and your significant other probably aren't going to want to have to cook.
You should probably purchase one package of newborn diapers and a package of size 1 diapers. You don't want to go overboard buying too many diapers before your baby arrives, because you never know how quickly your baby is going to grow.