Baby Bassinet Guide: Reviews, Comparisons & Recommendations
Disclosure: This post contains affiliate links. This means that I earn a small commission if you make a purchase by clicking on the affiliate links at no extra cost to you. Please see my Disclosure for more details.
Compare Bassinet Options
These were the best bassinet options with at least 4 star reviews that were under $70, according to Amazon's Best Sellers Page. I chose that price point because I figured a lot of people probably won't want to spend more on a product that they will likely only use until their baby is around 4-months-old. I did not include travel bassinets or co-sleepers.
If you want to skip straight to the best baby bassinet:
✅ This specific baby bassinet is Amazon's Choice for bassinets. Amazon's Choice recommends highly rated, well-priced products available to ship immediately.
It's an excellent baby bassinet, and yet it is one of the cheapest bassinets available. It is also the SAFEST of the best bassinet options in that is JPMA certified.
Which Baby Bassinet Is Best?
When it comes to baby bassinets under $70 with the best reviews, these are the best four options to choose from.
Best baby bassinet choices:
✅ Compare only the 4 Best Baby Bassinets under $70 above on ONE PAGE here.
Top 10 Bassinets Based on Popularity
The Top 10 Bassinets are based on Amazon Best Sellers that have at least 4 star reviews. The Top 10 Bassinets do NOT include bedside sleepers, travel bassinets, or co-sleepers.
✅ Compare Prices On All 10 Bassinets Here
✅ Best Baby Bassinet Amazon WINNER
Which bassinet is BEST? If I had to pick only ONE bassinet, I agree with the results below:
✅ Amazon chooses this bassinet as their 'Amazon's Choice' Winner. The price is VERY LOW in comparison with other bassinets, it's "Prime eligible" so shipping is FREE and FAST.
✅ Top 4 Bassinets on Target By Popularity
These were the Top 4 baby bassinet best sellers at Target that have at least 4 star reviews.
1. Ingenuity Foldaway Rocking Bassinet – info page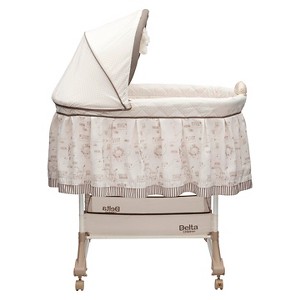 2. Delta Children Play Time Rocking Bassinet – info page
3. Simmons Kids SlumberTime Elite Gliding Bassinet – info page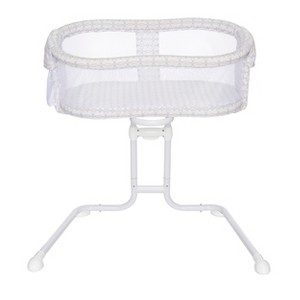 4. HALO Bassinet Glide Sleeper – info page
Consumer Report's Bassinet Buying Guide
Consumer Reports has a Bassinet Buying Guide. It no longer gets updated, and it was last updated in 2016. However, there is still a lot of useful information in it. Here are some shopping guidelines that they have in this guide:
Consumer Reports does not recommend bedside sleepers that attach to an adult bed and has legs or Moses Baskets.
Check to see if it is JPMA certified.
The mattress or pad should be firm, and the sheet should fit snugly.
Check folding mechanisms.
Consumer Reports also offers some safety strategies:
Buy a certified and new bassinet or cradle.
Do not use an heirloom cradle or bassinet.
If you get a cradle, pick one that barely rocks.
Always make sure the wheels are locked when in use.
Don't carry or move your child while in a bassinet or cradle.
Make sure there are no stuffed animals or extra bedding in the bassinet or cradle.
Make sure your baby is sleeping on her back.
Which Baby Bassinet did you use and love? Please share in the comments below!